Photo: Renate Stuefer
Down at the lake at the Kunst in der Natur project (2006).

Photo: Scarlett Koefner
Kerstin Steiner and Jonnie White at the open air Floorpsot in Gars am Kamp, Lower Austria in 2006.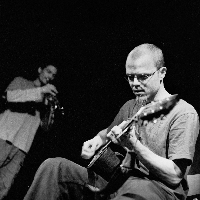 Photo: Mathias Jurt
Wolfgang Pecka & Jonnie White playing Lost Children at Floorspot (2002)

Photos by Amanda Sage.
Pollard Berrier and I played at NUU in Vienna in March 2004. Thank you Denise for a wonderful evening.